Brandi's HorseWorld Classified Adds
Here you may post your classified adds for free!! All adds stay up for 3 months. After 3 months the add will be taken down, unless you request another 3 months.
---
Posted 5/26/99
A Home For Your Equine Family Member - Beachcomber's Barn is located 15 min. from Wilmington NC. $175. per month includes feed and hay twice daily, large stalls, plenty of pasture with shade for summer. Quiet, experienced, careful handling of your horse. For more information, please call Jean Ann at 910-253-4478 or email: joannabud@aol.com "Not Just a Stable - But a Home for Your Horse" Thank you, Jean Ann Larkins
---
Posted 5/26/99
LOOKING FOR HORSE ENTHUSIASTS in Canada and the U.S. with the belief that diets make a difference. Start your own business selling horse supplements from your own barn. For more info contact LaceyQH@laceydigital.com and visit our website at www.laceydigital.com/WillowGold.
---
Posted on 5/26/99
Misc horse stuff for sale. I have one pair brand new leather reins laced, 5.00, one pair leather reins with rubber grips, 8.00, and a lightwt. pair of western chaps, 25.00. Ill pay shipping. waltamb@epix.net
---
Posted on 5/26/99
Hi, my name is Lizann. I operate Hope Ranch, a small ranch in California that is dedicated to working with at-risk, underprivileged, and special needs kids. If anyone out there that has any books or magazines or anything horse related that they would like to see put to a good use, please let me know, anything would be greatly appreciated. Thanks Lizann@sosinet.net
---
Posted 5/20/99

For Sale or Trade ......... Texas Can Dancer "Cassie" Foal date - June 7, 1993 APHA #246,895 Sorrel/White Tobiano mare - one blue eye Blondy's Dude, Cowboy Pride, and Jet Deck bred. (Out of BLACK TB mare) A full 15.2 hh and weighs 1180. Stout full bodied mare with excellent conformation. Smooth gaited and has wonderful handle with a "get in the ground" kind of stop. She's had just a little bit of everything on her -- halter, showmanship, trail ,western riding, green english classes, tracked calves, she is loping the barrel pattern nicely, and trotting the poles. She has been ridden and handled at shows by a 9 year old girl. Very laid back mare with excellent manners. Loads (even in a two horse) clips, baths, stands for the farrier, easily caught in the pasture. Absolutely no buck, even if she's not ridden for extended periods. Has had regular vet, and Chiropractic care. Up to date on vaccinations, and neg. coggins. We are Quarter horse enthusiasts. This is a VERY NICE MARE. She needs to go to someone who'll use her or breed her. The only hole in this mare is that she will crib when stalled if you don't use a collar on her. GUARANTEED SOUND. WILL TRADE for AQHA horse of color. Black, palomino, roan, dun buckskin, grulla, ect. Anything from weanling to 6 year old. Stallion, geld, or mare, but must meet our criteria. Sale price $5000.00 Located 80 miles south of Austin, TX. Will deliver within 800 mile range. Please E-mail for any additional info. - hart547@tisd.net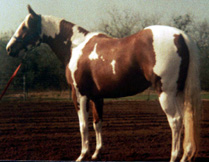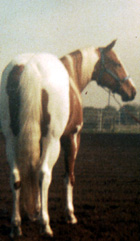 ---
Posted 8/13/98
FOR SALE: Aussie Rider training helment. Like new, still in box. Bought for $60.00 selling for $50.00 I'm selling this helment because it is too small. If interested please e-mail bjrider@texoma.net
---